STERYLIS DUCT AIR is an air purifying appliance designed for use in ventilation ducts, within air conditioning evaporators and in filter sections of ventilation systems. The disinfection process is based on UV-C technology, which destroys all pathogens, thus making sure the ventilation system is kept clean and increases the level of air hygiene.
Equipment designed for 24h operation.
UV-C DISINFECTION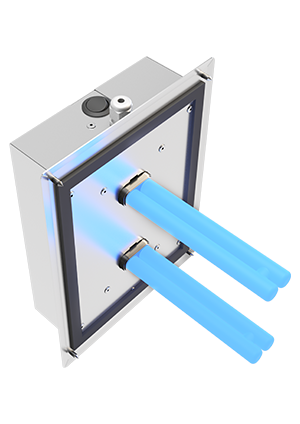 Features:
Effective in cleaning the air of pathogens, viruses (also SARS-COV-2, influenza, RSV, rhinoviruses, adenoviruses, rotaviruses), bacteria, fungi, mould, lichens and other
Prevents transmission of viruses from one room to another
Quick installation on existing ventilation/air-conditioning systems
Eliminates all odours in the air
More than 12 months of continuous operation of UV-C sources (operating time counter)

Places of use:

Sterylis DUCT AIR is a technology for all types of ductwork and indoor air ventilation systems.